The last three years we have been looking for females that are unrelated to the genetics we currently have in our herd. Our first purchase was Precious Z35. We own a half interest in her with Ehlke Herefords. She has been placed in an embryo transfer program. Three embryo transfer calves will be born in January 2020. Precious Z35 has an outstanding phenotype, is a complete outcross genetically and produces dark red offspring.
AI Sire Information
Bar Star Magnitude
R Leader
RSK Digby
Tested A250
The latest additions to our herd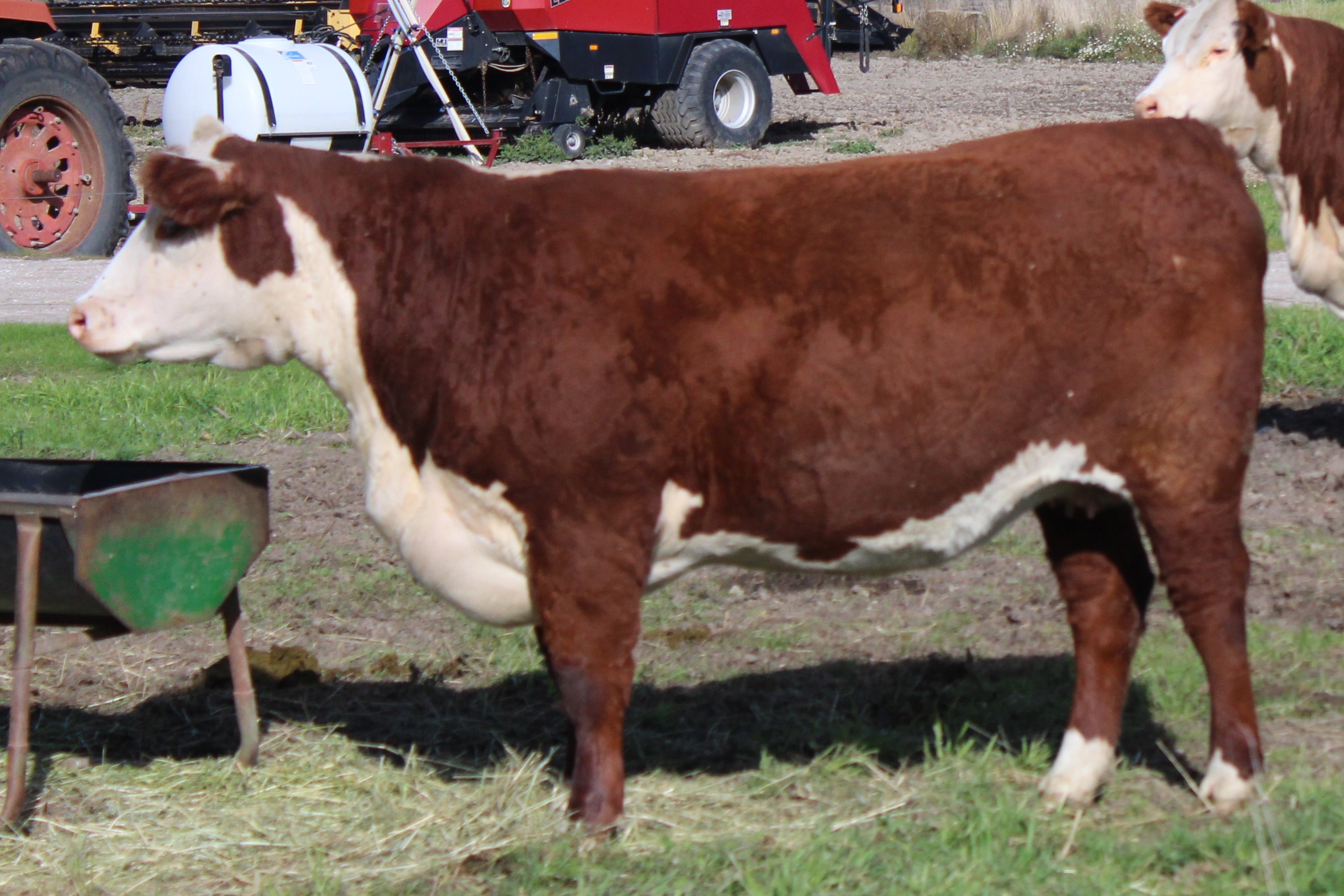 Edna E160 is a half sister to Edna D157. She shows the consistency her sire, Hometown 322A ET, produces with dark red color, smooth top line, outstanding udder and docile disposition.
Fireplay E164 traces back to Harvie E MS Fireplay 19Z, one of Ehlkes's excellent donor cows. She is a large framed cow that is a complete outcross to our herd. As a bonus, the heifer calf she is carrying will be out of TH Frontier 174E, who is also a complete outcross as well.
Edna D157 was purchased in 2018 to provide
outcross genetics with more muscle mass and
dark red pigmentation. We expect her to
produce excellent bulls and show steers.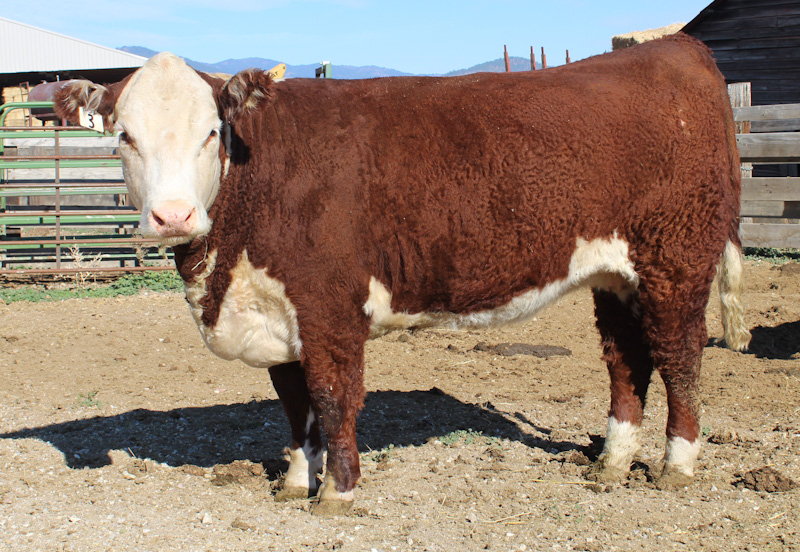 E332A Edna D157 is a very wide and long cow that shows great muscle development while still remaining very feminine. She has an eye catching bull out of Bar Star Magnitude born in January, 2020. Edna is the second super female we have purchased from Ehlke Herefords.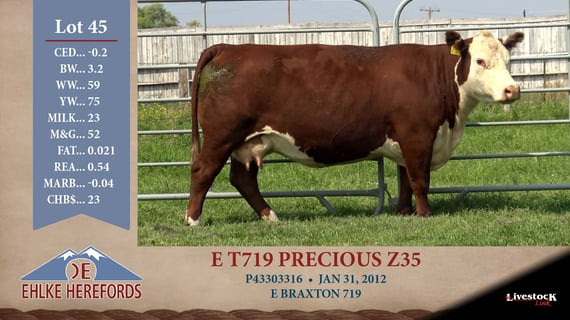 Precious is a beautiful dark color, has an outstanding udder and will add eye appeal to her calves. We can hardly wait to see her embryo transfer calves out of Digby and her natural calf out of Bar Star Magnitude. We own half interest in Precious with Ehlke Herefords of Townsend, Montana.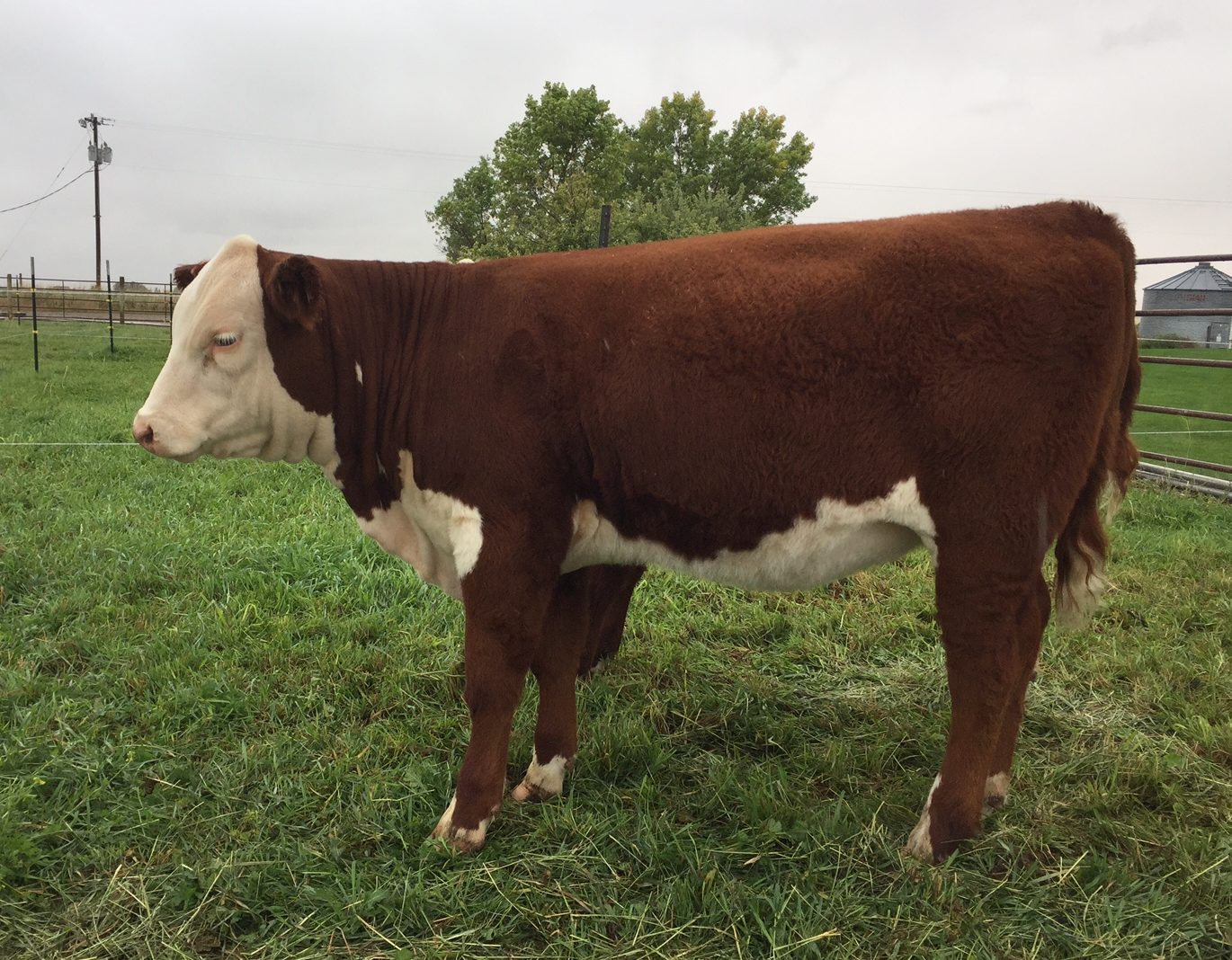 Churchill Lady has a January, 2020 steer calf out of Bar Star Magnitude. If you are looking for a show steer, this could be the one! She is pictured above as a weanling calf at the Churchill Sale in 2017.
Foundation Females of the HCH Herd
HH Miss Advance 7212T
Purchased from Holden Herefords In Valier, Montana, September 19, 2013.
Miss Advance has extra length and volume to back her WR 5 @ 104.7 and YR 4 @ 103.3.
Miss Advance is a daughter of one of Holden's great donor cows: HH Miss Advance 147L ET.
She has left us two very good daughters to carry on her line.
H&S Donna Duramiss
Our best maternal producer.
Donna has bred on her first AI service all six years while maintaining a 358-day calving interval.
Three sons have been sent to the WCA Bull Test selling from $2800.00 to $7750.00.
Her daughter is unbelievably good and will calve in January.
Donna has five Sires of Distinction and two Dams of Distinction in her three generation pedigree.
Donor Dam permitted as of 9/24/2015.