The fastest way to improve the genetic base of a cowherd is through artificial insemination (A.I.). Each year we breed over ninety percent of our herd A.I. to the best bulls we can find in the United States and Canada. Through the use of A.I., we have developed a herd of outstanding females.
AI Sire Information
SB 122 L Git-R-Done 19R ET
NJW 73S M326 Trust 100W ET
NJW 98S Durango 44U
Churchill Stud 3134A
NJW Twenty-Twelve
The latest additions to our herd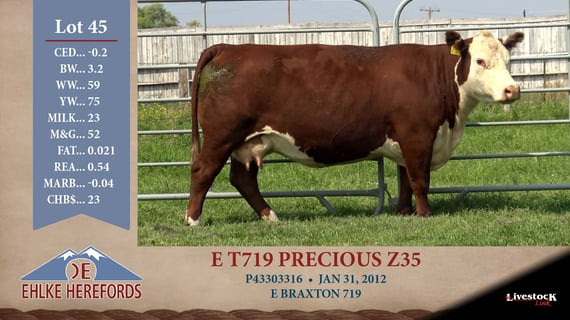 Precious is a beautiful dark color, has an outstanding udder and will add eye appeal to her calves. We can hardly wait for her calf!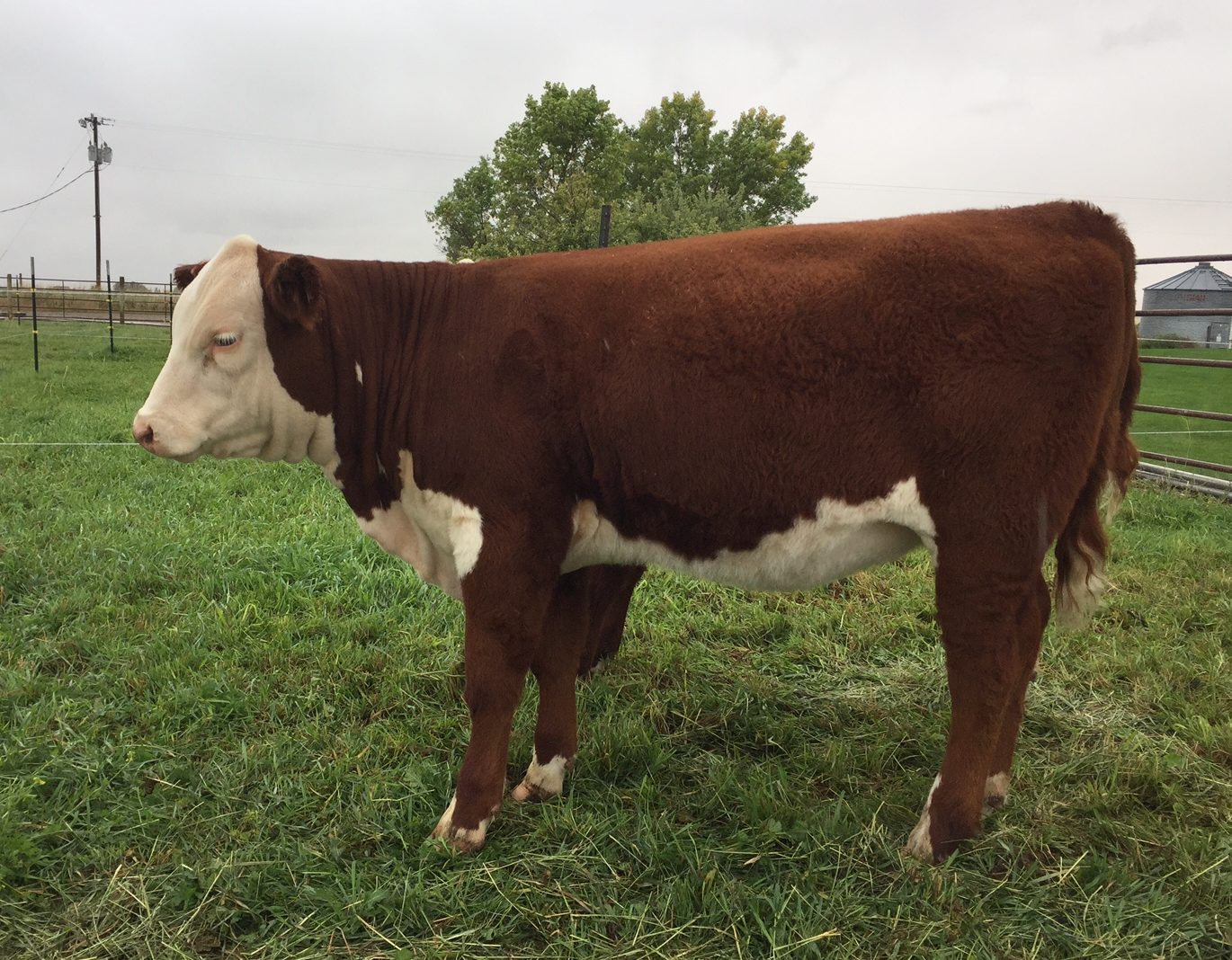 Churchill Lady is a weanling calf who has a fancy look with a maternal background. She will be ready to breed this spring. We expect great calves from this little lady.
Foundation Females of the HCH Herd
HH Miss Advance 9011W ET
Purchased from Holden Herefords Sept. 17, 2015 in their Elite Female Sale.
Miss Advance 9011 is a very long, smooth topped cow that is feminine while still showing a lot of muscle and cow power. A maternal sister is also a donor at Holden's.
We flushed Miss Advance 9011 to Churchill Stud 3134 A, HH Perfect Timing 0150 and NJW Twenty Twelve. A total of forty one IVF embryo's in two flushes were collected. We do have a limited number of embryo's for sale from these matings. 
We will sell 9011 or offer a flush. If you choose to buy the cow, we will retain the right to one flush. Please call for further information.
HH Miss Advance 7212T
Purchased from Holden Herefords In Valier, Montana, September 19, 2013.
Miss Advance has extra length and volume to back her WR 5 @ 104.7 and YR 4 @ 103.3.
Miss Advance is a daughter of one of Holden's great donor cows: HH Miss Advance 147L ET.
H&S Lads Girl
Lads Girl is a third generation Dam of Distinction (DOD) three generations in a row.
Earning this honor is extremely rare. Lads Girl records WR 6 @ 107 and YR 4 @ 100.
Lads Girl has three Dams of Distinction and three Sires of Distinction in her three generation pedigree.
Donor Dam permitted as of 7/24/2015.
H&S Donna Duramiss
Our best maternal producer.
Donna has bred on her first AI service all five years while maintaining a 358-day calving interval.
Three sons have been sent to the WCA Bull Test selling from $2800.00 to $7750.00.
Her daughter is unbelievably good and will calve in January.
Donna has five Sires of Distinction and two Dams of Distinction in her three generation pedigree.
Donor Dam permitted as of 9/24/2015.