The foundation of our Angus cattle breeding program is artificial insemination which uses the genetics of proven sires. The goal is to produce consistent and predictable offspring for use in commercial herds, while also producing the same types of replacement females for our registered herd. We do not chase fads or the latest "popular" bull. We strive to build quality by stacking one generation of predictable genetics on top of another set of similar predictable genetics.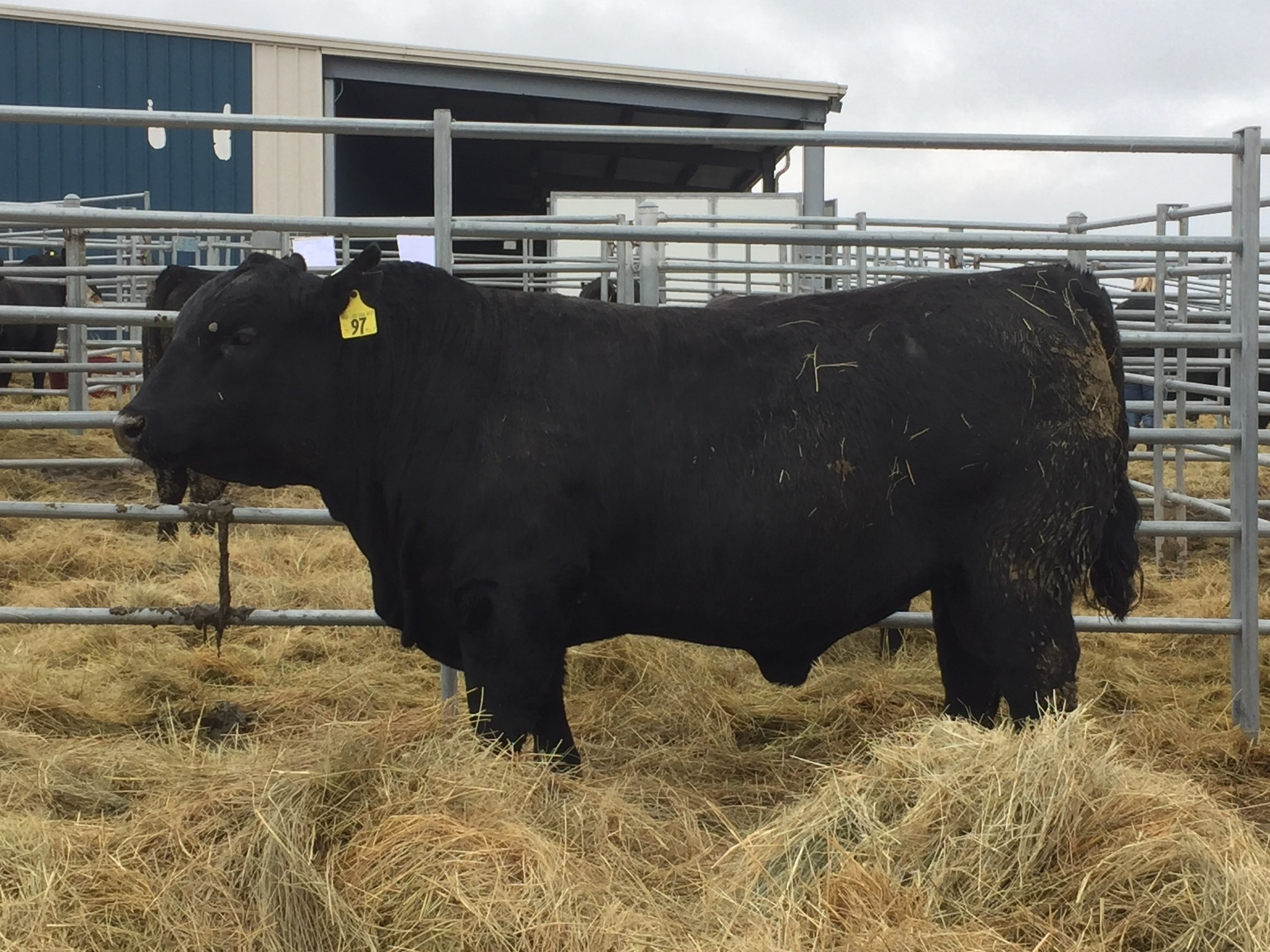 Read our latest articles on to help you make a decision about purchasing a bull.
Learn more today!

Bob Walli
Ritzville, WA
"Our pregnancy rates and weaning weights have really improved using your bulls."
WANT TO STOP BY AND LOOK AT OUR BULLS?
Call us at 509-936-4380.
Angus Bull #786
A young bull that has not filled out yet. If you like lots of length, this is your bull.
SOLD
DOB: 3-15-17
Act BW: 92
Adj wean wt: 798
2-11-18 Wt:
Sire: Connealy Black Granite
Dam: Juanada of Par
CED: 5.5
BW: 3
WW: 58
YW: 105.5
Milk: 20
Angus Bull #795
An outstanding AI son of JMB Traction. Weighed 1300 lbs on 2-15-18. My favorite.
SOLD
DOB: 1-19-17
Act BW: 92
Adj wean wt: 700
2-11-18 Wt:
Sire: JMB Traction
Dam: Uptown Rain Factor
CED: 2
BW: 2
WW: 63
YW: 108
Milk: 39
Angus Bull #741
SOLD
Out of a very good female line.
DOB: 3-12-17

Act BW: 92
Adj wean wt: 740
2-11-18 Wt:
Sire: S Chisum
Dam: CF Treasure Prime Star
CED: 4.5
BW: 2.85
WW: 58
YW: 99.5
Milk: 21
Angus Bull #731
SOLD
You will really like this well balanced and thick bull.
DOB: 1-8-17
Act BW: 88
Adj wean wt: 638
2-11-18 Wt:
Sire: JMB Traction
Dam: Erica Answer
CED: 1
BW: 2.6
WW: 62
YW: 107
Milk: 42
Angus Bull #726
SOLD
Has excellent calving ease numbers and out of a tremendous young cow.
DOB: 1-17-17
Act BW: 94
Adj wean wt: 704
2-11-18 Wt:
Sire: Connealy Black Granite
Dam: Capital Blackcap
CED: 11
BW: .2
WW: 51
YW: 85
Milk: 28
Angus Bull #603, WCA Lot #115
SOLD
DOB: 1-1-17
Act BW:95
Adj wean wt: 731
2-11-18 Wt:
Sire: Connealy Black Granite
Dam: BoBo Miss Midy 603
CED: 5
BW: 3.1
WW: 62
YW: 100
Milk: 21
Angus Bull #747, WCA Lot #114
SOLD
DOB: 1-27-17
Act BW: 98
Adj wean wt: 898
2-11-18 Wt:
Sire: SAV Resource 1441
Dam: BoBo Miss Midy 603
CED: -1
BW: 4.4
WW: 65
YW: 113
Milk: 21
Angus Bull #5795   
SOLD
DOB: 1-7-17
Act BW: 60
Adj wean wt: 621
2-11-18 Wt:
Sire: Connealy Comrade
Dam: Black Bird Summit
CED: 14
BW: 1.7
WW: 51
YW: 94
Milk: 36
Angus Bull #582
SOLD
DOB: 1-19-17
Act BW: 80
Adj wean wt: 631
2-11-18 Wt:
Sire: Connealy Comrade
Dam: New Design Courage
CED: 13
BW: 1
WW: 48
YW: 87
Milk: 32