Our Angus bull program starts with offering you sons of the top proven bulls in the industry through artificial insemination (AI). Many hours are put into research using EPD's, video, pictures, and personal contacts, so you can be assured you will have a high-quality bull that will excel in a wide range of desirable characteristics including high maternal value.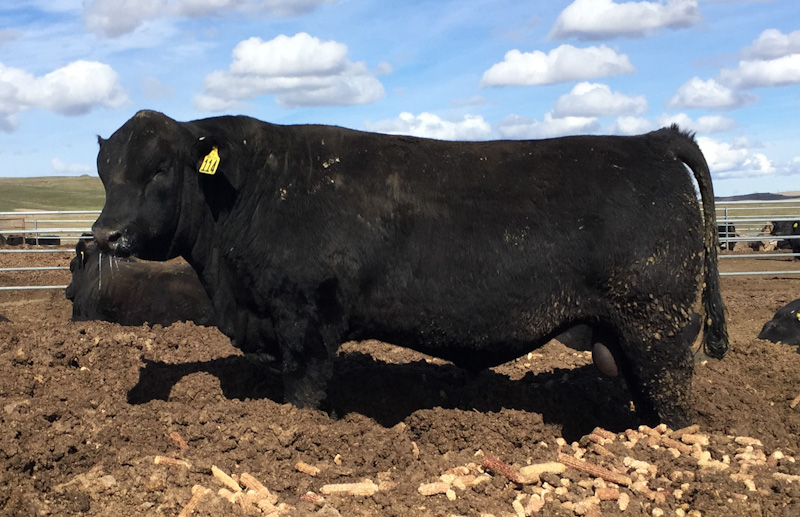 Read our latest articles on how to make a decision about purchasing a bull.
Learn more today!

Bob Walli
Ritzville, WA
"Our pregnancy rates and weaning weights have really improved using your bulls."
WANT TO STOP BY AND LOOK AT OUR 2020 BULL CALVES?
Call us at 509-936-4380.
Angus Bull H02
AAA 19782888 
DOB: 2-2-2020
Act BW: 76
Adj wean wt: 643
Sire: Barstow Bankroll
Dam: HC Miss Midy Char
CED: 12
BW: -1.3
WW: 53
YW: 100
Milk: 21
Angus Bull H13
AAA 19782889
DOB: 2-5-2020
Act BW: 90
Adj wean wt: 642
Sire: Barstow Bankroll
Dam: HC Blackbird Traction
CED: 11
BW: -1.3
WW: 58
YW: 111
Milk: 25
Angus Bull H29
AAA 19782884
DOB: 1-6-2020
Act BW: 87
Adj wean wt: 687
Sire: S Powerpoint 
Dam: HC Final Design
CED: 8
BW: 0.8
WW: 61
YW: 109
Milk: 21
Angus Bull H30
AAA 19782883
DOB: 1-6-2020
Act BW: 83
Adj wean wt: 630
Sire: S Powerpoint
Dam: HC Bo Midy Resource
CED: 7
BW: .1.3
WW: 64
YW: 114
Milk: 19
Angus Bull H34
AAA 19782882
DOB: 1-5-2020
Act BW: 87
Adj wean wt: 683
Sire: Connealy Power Surge
Dam: HC Daveys Black Darling
CED: 8
BW: 2.1
WW: 58
YW: 100
Milk: 26
Angus Bull H82
AAA 19794442
DOB: 1-8-2020
Act BW: 88
Adj wean wt: 749
Sire: HC Upward Shorty
Dam: HC Miss New Design Courage
CED: 6
BW: 2
WW: 56
YW: 100
Milk: 28
Angus Bull H533
AAA 19794441
DOB: 1-3-2020
Act BW: 88
Adj wean wt: 676
Sire: HC Upward Shorty
Dam: HC Courageous Traveler
CED: 6
BW: 1.9
WW: 55
YW: 97
Milk: 27
Angus Bull H626
AAA 19794020
DOB: 2-24-2020
Act BW: 87
Adj wean wt: 715
Sire: JMB Traction
Dam: HC Blackcap Summit
CED: 4
BW: 1.7
WW: 63
YW: 109
Milk: 32
Angus Bull H633
AAA 19794021
DOB: 12-28-2019
Act BW: 70
Adj wean wt: 556
Sire: S Powerpoint
Dam: HC Miss Charlo Division
CED: 14
BW: -2.5
WW: 50
YW: 88
Milk: 21
Angus Bull H721
AAA 19782887
DOB: 1-31-2020
Act BW: 76
Adj wean wt: 608
Sire: Connealy Black Granite
Dam: HC Basin Joyce Traction
CED: 12
BW: -0.3
WW: 58
YW: 97
Milk: 27
Angus Bull #7833
AAA 19794443
DOB: 1-13-2020
Act BW: 92
Adj wean wt: 592
Sire: HC Upward Shorty
Dam: HC Lady Granite Division
CED: 3
BW: 2.7
WW: 55
YW: 95
Milk: 26
Angus Bull H821
AAA 19782886
DOB: 1-11-2020
Act BW: 67
Adj wean wt: 749
Sire: Connealy Comrade
Dam: HC Miss Basin Traction
CED: 13
BW: -2.2
WW: 51
YW: 93
Milk: 29
Angus Bull H833
AAA 19788285
DOB: 1-7-2020
Act BW: 86
Adj wean wt: 606
Sire: SAV Angus Valley
Dam: HC Miss Black Courage
CED: 3
BW: 2.6
WW: 57
YW: 104
Milk: 23
Angus Bull H95
AAA 19782890
DOB: 2-26-2020
Act BW: 83
Adj wean wt: 721
Sire: JMB Traction
Dam: HC Black Bird Summit 004
CED: 5
BW: 1.2
WW: 61
YW: 110
Milk: 33
Angus Bull H27
Not Registered
DOB: 1-14-2020
Act BW: 83
Adj wean wt: 679
Sire: HC Upward Shorty
Dam: 
CED: 
BW: 
WW: 
YW: 
Milk: 
Angus Bull #8626
Not Registered
DOB: 1-13-2020
Act BW: 84
Adj wean wt: 640
Sire: 
Dam: 
CED: 
BW: 
WW: 
YW: 
Milk: