Angus Sires used this year include: Ellingson Rangeland, KG Just Cause, Musgrave Crackerjack, Tehama Testament, Spring Cove Compound, Crawford Guarantee, Sitz Resilient, and Black Granite. A heavy bull calf crop gives us a great choice of bulls for 2024. There will be a good selection of calving ease sires with very nice growth.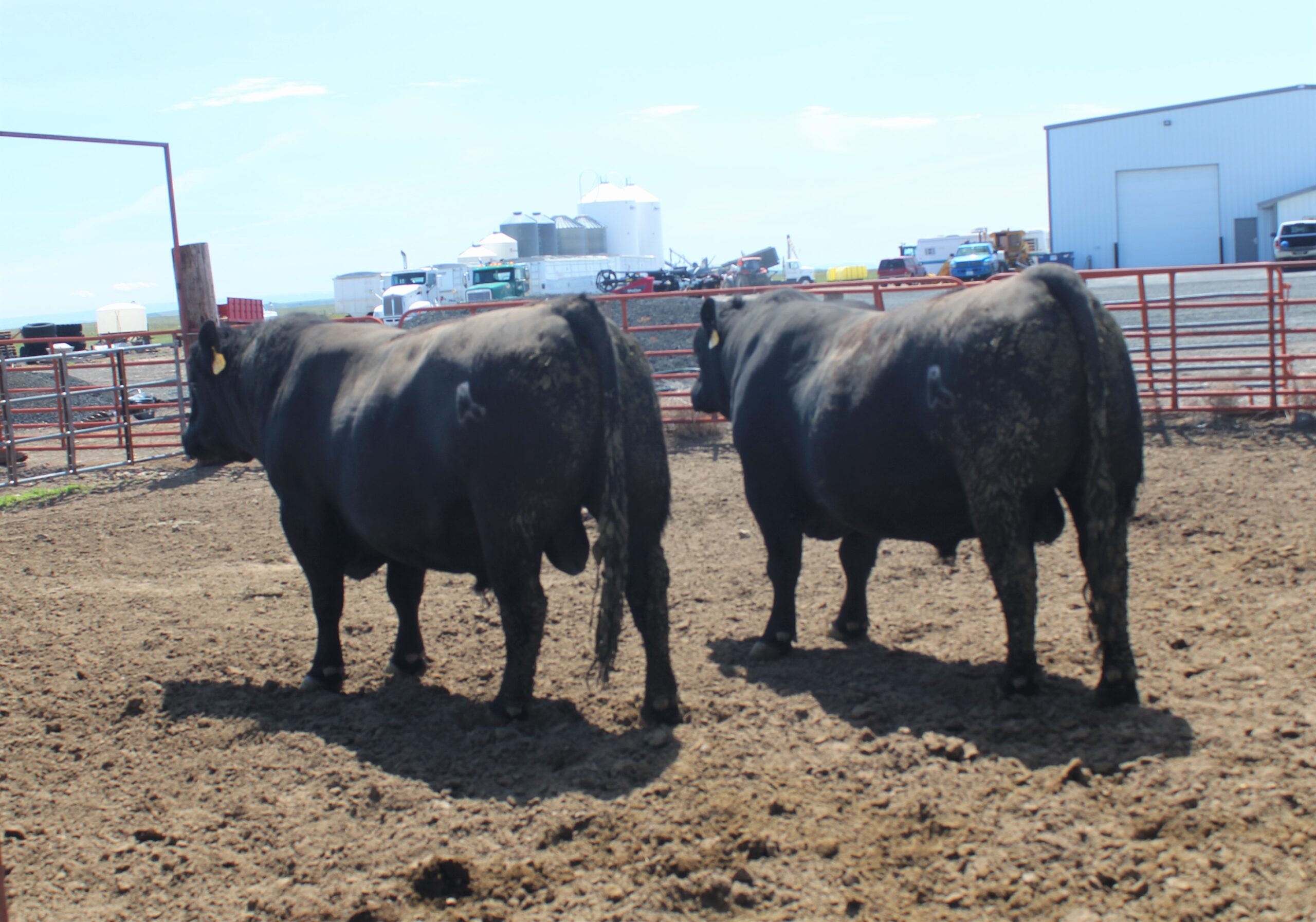 Herd Sires at the Klein Ranch, Ritzville, WA.
Read our latest articles on how to make a decision about purchasing a bull.
Learn more today!

Bob Walli
Ritzville, WA
"Our pregnancy rates and weaning weights have really improved using your bulls."
Please call and chat with us about our bulls!     509-936-4380
Angus Bull L02
AAA 206881693
DOB: 1-01-2023
Act BW: 97
Adj wean wt: 693
Sire: Deer Valley Optimum
Dam: H&S Miss Midy Char
CED: 10
BW: .7
WW: 65
YW: 119
Milk: 29
Angus Bull L03
AAA 20681685
DOB: 1-26-2023
Act BW: 80
Adj wean wt: 699
Sire: HC Black Capital
Dam: H&S Miss Bo Bo Traction 603
CED: 0
BW: 2.3
WW: 63
YW: 114
Milk: 29
Angus Bull L14
AAA 20681682     DNA Tested
DOB: 2-12-2023
Act BW: 86
Adj wean wt: 627
Sire:  VDAR Security 6701
Dam: VDAR Lass 6414
CED: 6
BW: 1.3
WW: 64
YW: 126
Milk: 30
Angus Bull L21
AAA 20681684
DOB: 2-20-2023
Act BW: 83
Adj wean wt: 633
Sire: HC Black Capital
Dam: HC Miss Basin Traction
CED: 6
BW: .3
WW: 59
YW: 106
Milk: 29
Angus Bull L79     Sale Pending
AAA 20699603     DNA Tested
DOB: 2-16-2023
Act BW: 98
Adj wean wt: 902
Sire: Sitz Resilient 10208
Dam: Sitz Emma E179D
CED: 1
BW: 3.1
WW: 76
YW: 132
Milk: 25
Angus Bull L82
AAA 20681692
DOB: 1-30-2023
Act BW: 78
Adj wean wt: 695
Sire: HC Black Capital
Dam: HC Exclusive Designer
CED: 4
BW: 1.7
WW: 63
YW: 115
Milk: 27
Angus Bull L95     Sale Pending
AAA 20681683     DNA Tested
DOB: 2-06-2023
Act BW: 75
Adj wean wt: 642
Sire: HC Black Capital
Dam: HC Miss Black Summit 5795
CED: 11
BW: -1.2
WW: 59
YW: 107
Milk: 29
Angus Bull L96     Sale Pending
AAA 20681688     DNA Tested
DOB: 2-16-2023
Act BW: 70
Adj wean wt: 642
Sire: HC Black Capital
Dam: HC Double Friend 496
CED: 11
BW: -2.1
WW: 59
YW: 109
Milk: 26
Angus Bull L333     Sale Pending
AAA 20681690
DOB: 1-10-2023
Act BW: 75
Adj wean wt: 599
Sire: Spring Cove Compound 12E
Dam: HC Miss Exclusive Diva
CED: 12
BW: .4
WW: 60
YW: 111
Milk: 28
Angus Bull L334     Sale Pending
AAA 20681691     DNA Tested
DOB: 1-01-2023
Act BW: 60
Adj wean wt: 593
Sire: Spring Cove Compound 12E
Dam: HC Daveys Exclusive Darling
CED: 17
BW: -2.8
WW: 60
YW: 108
Milk: 28
Angus Bull L596     Sale Pending
AAA 20681689     DNA Tested
DOB: 1-26-2023
Act BW: 75
Adj wean wt: 664
Sire: HC Black Capital
Dam: HC Designer Emerald
CED: 7
BW: -.2
WW: 56
YW: 104
Milk: 28
Angus Bull L795     Sale Pending
AAA 20681681     
DOB: 1-08-2023
Act BW: 92
Adj wean wt: 728
Sire: Deer Valley Optimum
Dam: HC Uptown Rain Factor
CED: 9
BW: 1.2
WW: 76
YW: 134
Milk: 29
Angus Bull L933
AAA 20681686     DNA Tested
DOB: 2-17-2023
Act BW: 77
Adj wean wt: 646
Sire: HC Black Capital
Dam: HC Black Courage
CED: 6
BW: 1.1
WW: 58
YW: 105
Milk: 26
Angus Bull L941
AAA 20754322     DNA Tested
DOB: 1-13-2023
Act BW: 86
Adj wean wt: 692
Sire: Deer Valley Optimum
Dam: HC Primo Attraction
CED: 8
BW: .2
WW: 74
YW: 134
Milk: 31