Our Hereford Sires include: E Yellowstone 001, Boyd Blue Print, CMF Gold Rush, CMF Guideline, E HC Wyatt J23, and NJW Ridge 254 G. The 2023 calf crop is on the ground and growing fast. A large bull calf selection will available for 2024 with the Gold Rush and Yellowstone calves catching our eye.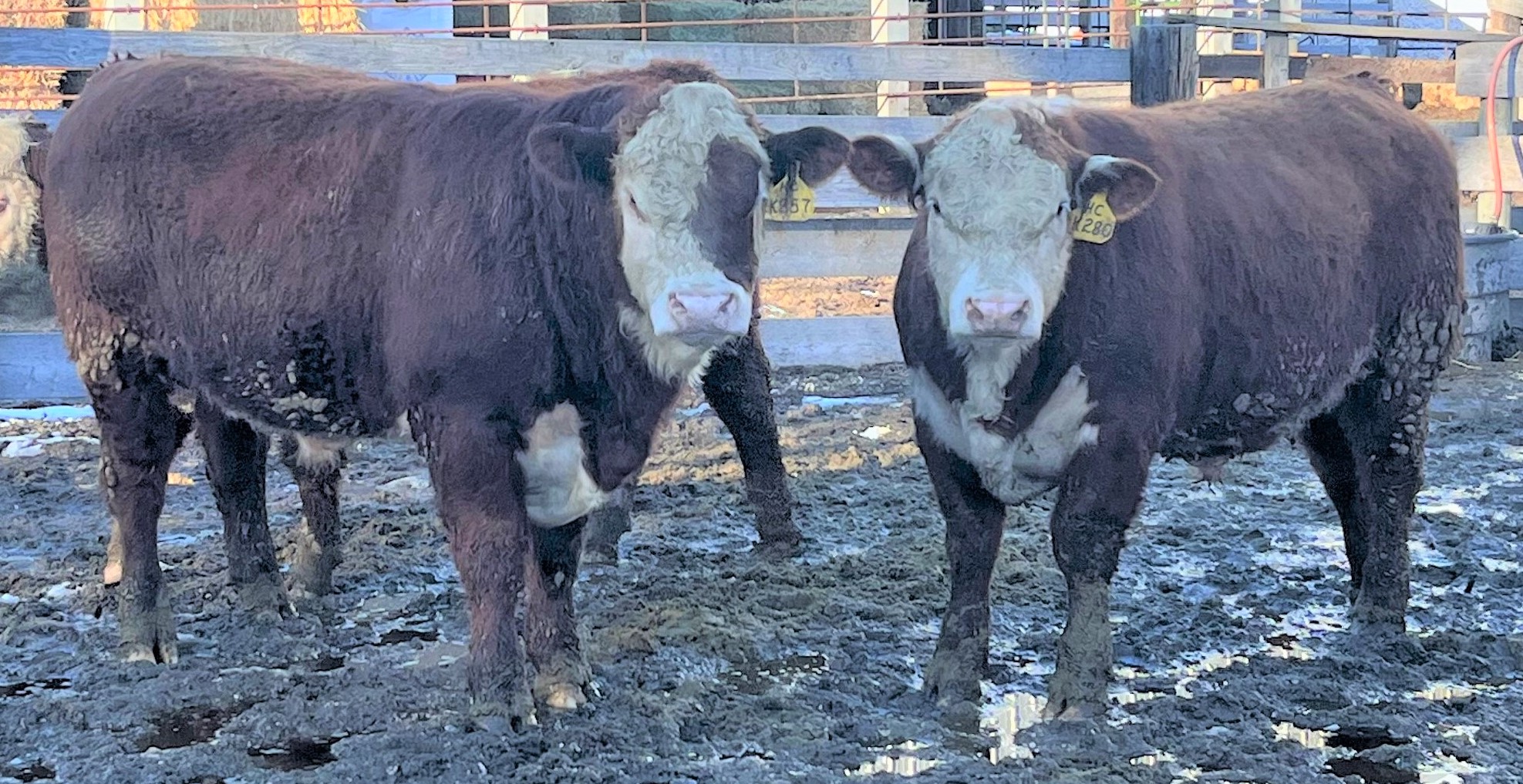 K857 (sire is Winchester Powerball and K280 (sire is E Yellowstone 001)
Read our latest articles on how to make a decision about purchasing a bull.
Learn more today!

Richard Melville
Cheney, WA
"I really like the bulls you have sold us. They are calm, long, wide, and really good breeders."
Please call and chat with us about our bulls!    509-936-4380
Hereford Bull L12 
P44480978     DNA Tested
Homozygous Polled
DOB: 1-15-2023
Act BW: 77
Adj Wean Wt: 607
Sire: TH Frontier 174E
Dam: HC Miss Sassy Print
CED: 7.9
BW: .9
WW: 65
YW: 105
Milk: 40
Hereford Bull L18
P44482698     DNA Tested
Homozygous Polled
DOB: 1-21-2023
Act BW: 91
Adj Wean Wt: 668
Sire: 174E Yellowstone
Dam: H&S Classy Red Girl
CED: 1.1
BW: 1.8
WW: 61
YW: 98
Milk: 37
Hereford Bull L39
P44472887
DOB: 2-08-2023
Act BW: 95
Adj Wean Wt: 660
Sire: CMF Gold Rush
Dam: Meagan G39
CED: 3.7
BW: 2.9
WW: 61
YW: 95
Milk: 26
Hereford Bull L57  
P44472877
DOB: 1-02-2023
Act BW: 92
Adj Wean Wt: 737
Sire: CMF Gold Rush
Dam: H&S Dura Chick
CED: 2.3
BW: 3.3
WW: 65
YW: 101
Milk: 33
Hereford Bull L313
P44480979
DOB: 1-14-2023
Act BW: 94
Adj Wean Wt: 633
Sire: Boyd Blueprint
Dam: HC Lady Redeem
CED: -2.1
BW: 5.1
WW: 70
YW: 109
Milk: 28
Hereford Bull L322
P44472891     DNA Tested
Homozygous Polled
DOB: 2-03-2023
Act BW: 71
Adj Wean Wt: 571
Sire: CMF Gold Rush
Dam: HC Meg Miranda 122
CED: 10.8
BW: .7
WW: 63
YW: 102
Milk: 27
Hereford Bull L657   
P44472883
DOB: 1-12-2023
Act BW: 96
Adj Wean Wt: 617
Sire: NJW Ridge 254G
Dam: H&S Dyna Miss Chick
CED: 3.5
BW: 2.7
WW: 60
YW: 95
Milk: 34
Hereford Bull L712   
P44472879     DNA Tested
Heterozygous Polled
DOB: 1-06-2023
Act BW: 85
Adj Wean Wt: 701
Sire: CMF Gold Rush
Dam: H&S Advanced Stud
CED: 4.2
BW: 2.4
WW: 63
YW: 102
Milk: 32
Hereford Bull L812   
P44482700
DOB: 1-01-2023
Act BW: 87
Adj Wean Wt: 553
Sire: E 174E Yellowstone
Dam: H&S Miss Ada Bullwinkle
CED: -0.7
BW: 2.6
WW: 56
YW: 96
Milk: 31
Hereford Bull L857   
P44472881     DNA Tested
Homozygous Polled
DOB: 1-09-2023
Act BW: 85
Adj Wean Wt: 701
Sire: CMF Gold Rush
Dam: H&S Helga Dura Chick
CED: 4.2
BW: 3.0
WW: 68
YW: 107
Milk: 33