Our Hereford Sires include: E Yellowstone 001, Boyd Blue Print, CMF Gold Rush, CMF Guideline, E HC Wyatt J23, and NJW Ridge 254 G. The 2023 calf crop is on the ground and growing fast. A large bull calf selection will available for 2024 with the Gold Rush and Yellowstone calves catching our eye.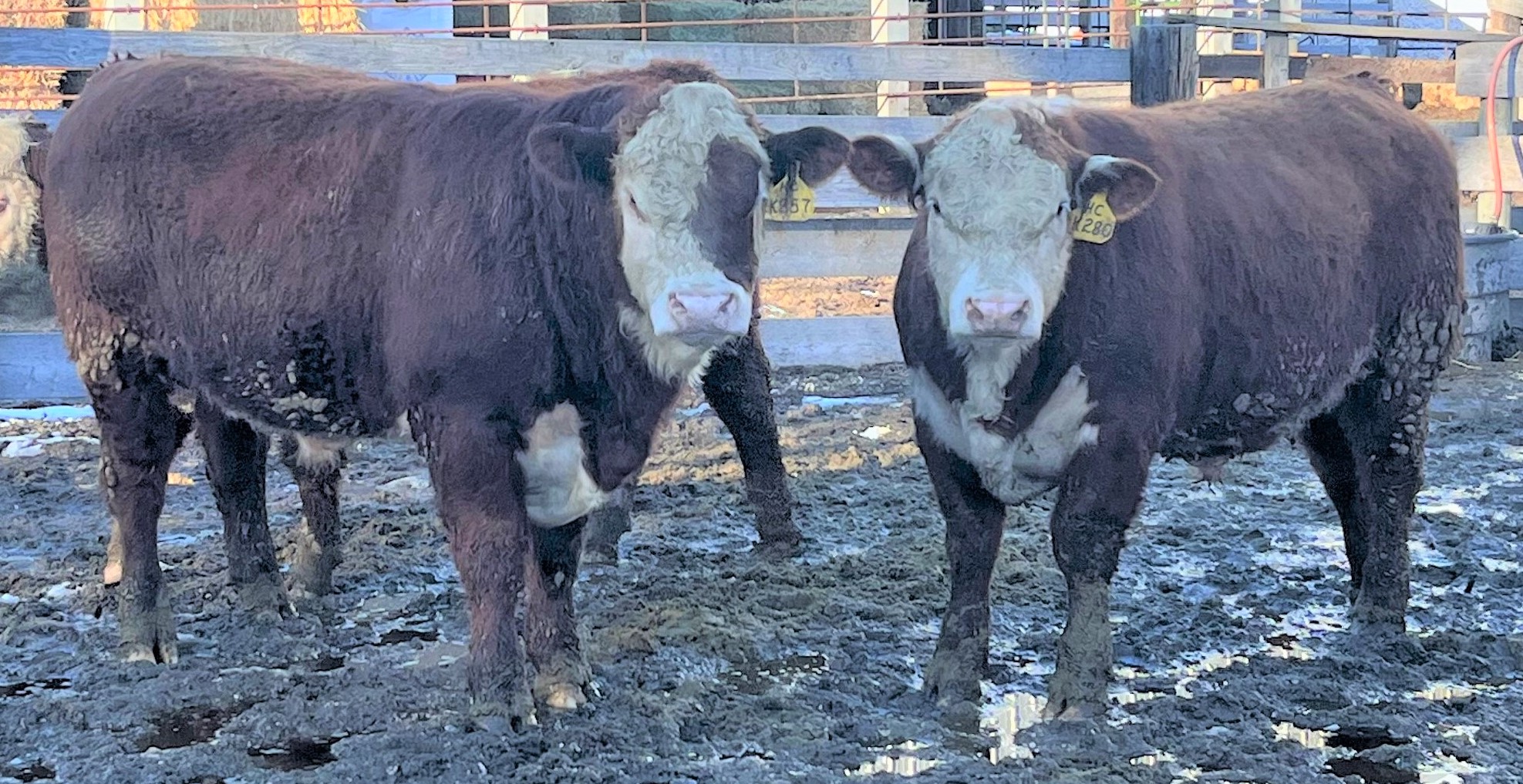 K857 (sire is Winchester Powerball and K280 (sire is E Yellowstone 001)
Read our latest articles on how to make a decision about purchasing a bull.
Learn more today!

Richard Melville
Cheney, WA
"I really like the bulls you have sold us. They are calm, long, wide, and really good breeders."
Please call and chat with us about our bulls!    509-936-4380
Hereford Bull K13     

SOLD

   
P44328218
DOB: 1-15-2022
Act BW: 89
Adj Wean Wt: 504
Sire: Durango 44U
Dam: Churchill Lady 7313
CED: 5.7
BW: 1.0
WW: 56
YW: 87
Milk: 34
Heavy framed and long bodied with a smooth top and good rear quarter. Mother is a big cow.
Hereford Bull K18   

 SOLD
P44355653
DOB: 2-21-2022
Act BW: 93
Adj Wean Wt: 652
Sire: 174E Yellowstone 
Dam: Classy Red Girl
CED: 4.1
BW: 1.2
WW: 62
YW: 100
Milk: 37
Full pigment on both eyes with a smooth head. Narrow front shoulders and a long body.
Hereford Bull K057     

SOLD
P44355663
DOB: 1-22-2022
Act BW: 86
Adj Wean Wt: 524
Sire: Tested A250
Dam: Chick Magnet
CED: 3.0
BW: 1.9
WW: 64
YW: 96
Milk: 31
Heavier muscled bull with a smooth top and full pigment on both eyes. From a good producing line of cattle. Loves to be scratched.
Hereford Bull K280     

SOLD

   
P44328216
DOB: 2-12-2022
Act BW: 94
Adj Wean Wt: 653
Sire: E Yellowstone 001
Dam: Donna Redeem
CED: 7.4
BW: 2.1
WW: 69
YW: 109
Milk: 39
Really good February bull with outcross genetics. Well balanced body that is deep and meaty. Good rear quarter, pigment on both eyes with a nice polled head. Top weaning weight at 653 lbs.
Hereford Bull K857     

SOLD
P44328215
DOB: 1-9-2022
Act BW: 89
Adj Wean Wt: 637
Sire: Winchester Powerball
Dam: Helga Dura Chick
CED: 5.1
BW: 2.6
WW: 62
YW: 93
Milk: 32
Dark red with a wide body and pigment on both eyes. Very good weaning weight. An outcross with Canadian genetics. From a very productive line of cattle.
Hereford Bull K980     

SOLD
P44355655
DOB: 2-25-2022
Act BW: 80
Adj Wean Wt: 628
Sire: Frontier 174E
Dam: Donna Duramiss Studette
CED: 11.1
BW: -0.6
WW: 63
YW: 103
Milk: 43
Late February bull that will fill out a lot by March. Long body and good eye pigment. Looks like a calving ease bull and his EPD numbers agree.
Hereford Bull K05   
Not Registered
DOB: 2-10-2022
Act BW: 82
Adj Wean Wt: 607
Sire: Durango 44U
Dam: Edna 157
CED: 3.4
BW: 1.9
WW: 55
YW: 95
Milk: 32
Wide rear, smooth front end with good testicles. Long bodied and darker color. Pigment on both eyes.