Our Polled Hereford bull program has been the product of many years of progressive development and wide use of artificial insemination (AI). We have emphasized maintaining a wide range of genetics which allows us to offer you many choices in selecting an outstanding herd sire. We consistently travel to cattle sales to view offspring of AI bulls, search EPD's, view photos, and talk to Hereford breeders about their livestock in an effort to select only the best bulls available for our breeding program.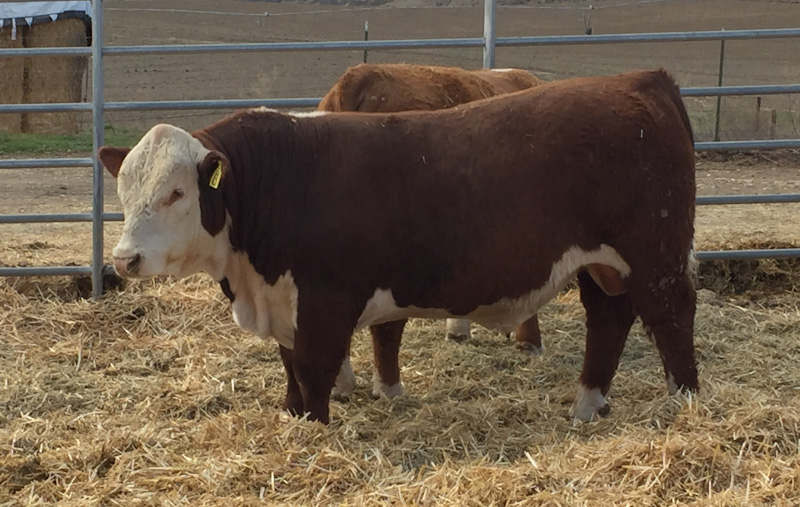 Churchill Stud 3134 A son
Read our latest articles on how to make a decision about purchasing a bull.
Learn more today!

Richard Melville
Cheney, WA
"I really like the bulls you have sold us. They are calm, long, wide, and really good breeders."
WANT TO PLAN AHEAD FOR 2021?
TAKE A LOOK AT THE 2020 CALF CROP!
Call us at 509-936-4380.
Hereford Bull H05
P44121561
DOB: 1-20-2020
Act BW: 90
Adj Wean Wt: 547
Sire: Bar Star Magnitude
Dam: Edna
CED: -0.5
BW: 4.1
WW: 61
YW: 110
Milk: 25
Hereford Bull H35
P44122180
DOB: 2-2-2020
Act BW: 86
Adj Wean Wt: 590
Sire: RSK E 2016 Digby ET
Dam: E T719 Precious Z35
CED: 0.6
BW: 3.7
WW: 53
YW: 79
Milk: 24
Hereford Bull H37
P44122182
DOB: 1-31-2020
Act BW: 865
Adj Wean Wt: 555
Sire: RSK E2046 Digby ET 20C
Dam: E T719 Precious Z35
CED: 0.6
BW: 3.7
WW: 53
YW: 79
Milk: 24
Hereford Bull H60
P44122181
DOB: 2-1-2020
Act BW: 100
Adj Wean Wt: 639
Sire: RSK E 2046 Digby ET
Dam: E T719 Precious Z35
CED: 0.6
BW: 3.7
WW: 53
YW: 79
Milk: 24
Hereford Bull H75
P44121556
DOB: 1-12-2020
Act BW: 75
Adj Wean Wt: 554
Sire: Bar Star Magnitude
Dam: H&S Miss Mega Stance
CED: -0.7
BW: 3.8
WW: 75
YW: 97
Milk: 27
Hereford Bull H280
P44121557
DOB: 1-20-2020
Act BW: 94
Adj Wean Wt: 679
Sire: Bar Star Magnitude
Dam: H&S Donna Redeem
CED: 3.3
BW: 3.5
WW: 68
YW: 108
Milk: 26
Hereford Bull H521
P44121555
DOB: 1-5-2020
Act BW: 72
Adj Wean Wt: 524
Sire: Bar Star Magnitude
Dam: H&S Miss Advantage 44U
CED: 3.7
BW: 2.1
WW: 56
YW: 94
Milk: 32
Hereford Bull H657
P44121562
DOB: 1-30-2020
Act BW: 84
Adj Wean Wt: 614
Sire: R Leader
Dam: H&S Dyna Chick
CED: 5.9
BW: 2.7
WW: 61
YW: 98
Milk: 28
Hereford Bull H812
P44121560
DOB: 1-20-2020
Act BW: 70
Adj Wean Wt: 767
Sire: Tested A250
Dam: H&S Ada Leader
CED: 8.9
BW: 0.7
WW: 61
YW: 95
Milk: 28
Hereford Bull H857
P44121565
DOB: 2-9-2020
Act BW: 78
Adj Wean Wt: 537
Sire: Tested A250
Dam: H&S Helga Dura Chick
CED: 4.2
BW: 2.3
WW: 66
YW: 102
Milk: 30