Hereford cattle are a staple breed on the Hagen ranch. We are offering these herd bull sires out of Tested A250, Churchill Stud, HH Perfect Timing, and Eldorado 57D. 
Please feel free to call us at 509-936-4380 for information or questions you may have concerning our bulls. We are always happy to talk cattle and share stories.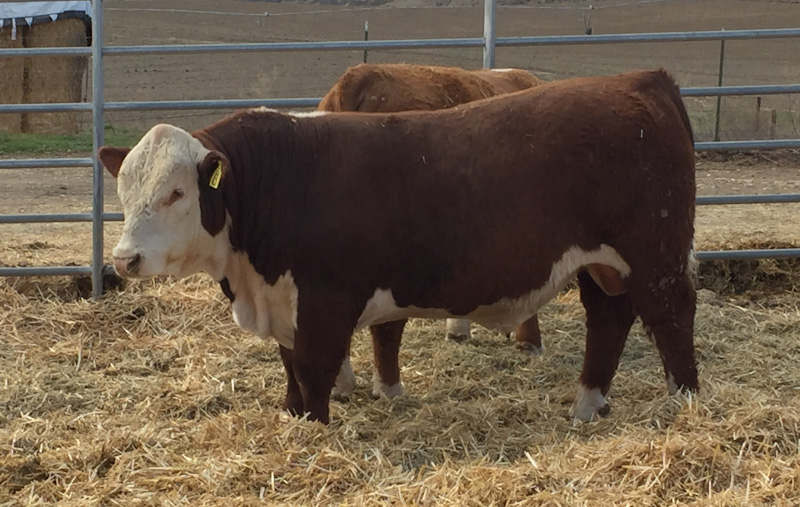 High selling bull at the 2017-18 WCA Bull Test and Sale.
Read our latest articles on to help you make a decision about purchasing a bull.
Learn more today!

Richard Melville
Cheney, WA
"I really like the bulls you have sold us. They are calm, long, wide, and really good breeders."
WANT TO PLAN AHEAD FOR 2019?
COME LOOK AT OUR 2018 BULL CALVES!
Call us at 509-936-4380.
Hereford Bull #802, WCA Lot #287
SOLD
Homegrown x 755T. Great looking from every angle. Gaining over 3 lbs per day with breed leading genetics.
DOB: 1-30-18
Act BW: 94
Adj Wean Wt: 
2-11-18 Wt:
Sire: NJW Homegrown
Dam: H&S Vicki 755T ET
CED: -3.4
BW: 4.3
WW: 63
YW: 108
Milk: 40
Hereford Bull #811
SOLD
Market Index x HH Advance 9011. A complete outcross to most Herefords. Lots of style and growth in a very young package. Heterozygous Polled.
DOB: 4-02-18
Act BW:87
Adj Wean Wt: 
2-11-18 Wt:
Sire: Star Market Index
Dam: HH Miss Advance 9011
CED: -0.2
BW: 3.7
WW: 51
YW: 80
Milk: 18
Hereford Bull #825
SOLD
Complete Holden breeding out of our Holden donor 9011. A very stylish calf that should be easy calving. Horned with horns removed.
DOB: 1-24-18
Act BW: 78
Adj Wean Wt: 
2-11-18 Wt:
Sire: HH Perfect Timing
Dam: HH Miss Advance 9011
CED: 7.2
BW: 0.7
WW: 39
YW: 59
Milk: 23
Hereford Bull #899
SOLD
Homegrown x Git-R-Done. Really good genetics backing this very young bull. Just starting to explode.
DOB: 3-31-18
Act BW: 85
Adj Wean Wt: 
2-11-18 Wt: 
Sire: NJWHomegrown 8Y
Dam: H&S Erin Heartbeat
CED: -0.3
BW: 4.0
WW: 61
YW: 107
Milk: 33
Hereford Bull #8657, WCA Lot #288
SOLD
Tested x Trust. Calving ease in a stout package. As well muscled as any Hereford bull I've seen.
DOB: 1-18-18
Act BW: 78
Adj Wean Wt: 
2-11-18 Wt:
Sire: Tested
Dam: H&S Dyna Chick
CED: 5.7
BW: 1.5
WW: 62
YW: 98
Milk: 29