Hereford cattle are a staple breed on the Hagen ranch. We are offering these herd bull sires out of R Leader, Tested A250, and El Dorado 57D. 
Please feel free to call us at 509-936-4380 for information or questions you may have concerning our bulls. We are always happy to talk cattle and share stories.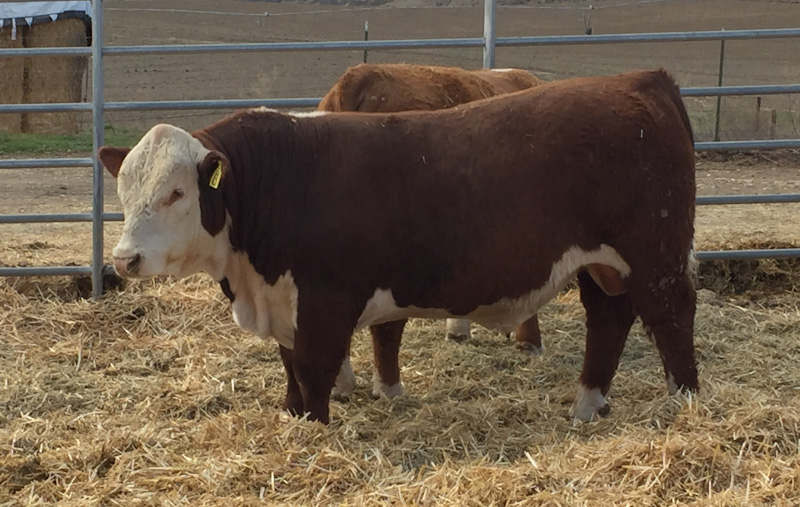 High selling bull at the 2017-18 WCA Bull Test and Sale.
Read our latest articles on how to make a decision about purchasing a bull.
Learn more today!

Richard Melville
Cheney, WA
"I really like the bulls you have sold us. They are calm, long, wide, and really good breeders."
WANT TO PLAN AHEAD FOR 2020?
COME LOOK AT OUR 2019 BULL CALVES!
Call us at 509-936-4380.
Hereford Bull #57G, WCA Lot 491
P44040799
DOB: 1-05-19
Act BW: 84
Adj Wean Wt: 550
Sire: R Leader
Dam: H&S Dyna Miss Chick
CED: 5.6
BW: 3.1
WW: 64
YW: 103
Milk: 27
Hereford Bull #80G
P44040797
DOB: 1-04-19
Act BW: 78
Adj Wean Wt: 537
Sire: R Leader
Dam: H&S Donna Redeem
CED: 10.1
BW: 1.9
WW: 71
YW: 107
Milk: 24
Hereford Bull #911
P44040790
DOB: 2-01-19
Act BW: 73
Adj Wean Wt: 522
Sire: Tested A250
Dam: H&S Miss Advance Homerun
CED: 6.3
BW: 1.4
WW: 54
YW: 86
Milk: 31
Hereford Bull #953
P44051807
DOB: 1-22-19
Act BW: 78
Adj Wean Wt: 953 
Sire: CCC Top Tier
Dam: EMC P316 MS Nasdaq ET
CED: .6
BW: 3.7
WW: 42
YW: 75
Milk: 20
Hereford Bull #957, WCA Lot 489
P44040783
DOB: 1-13-19
Act BW: 83
Adj Wean Wt: 620
Sire: R Leader
Dam: H&S Dura Chick
CED: 5.2
BW: 2.4
WW: 69
YW: 104
Milk: 28
Hereford Bull #9512
P44040785
DOB: 3-12-19
Act BW: 87
Adj Wean Wt: 683
Sire: El Dorado
Dam: H&S Homegrown Advantage 7212
CED: .5
BW: 2.4
WW: 54
YW: 88
Milk: 37