The foundation of our Angus cattle breeding program is artificial insemination which uses the genetics of proven sires. The goal is to produce consistent and predictable offspring for use in commercial herds, while also producing the same types of replacement females for our registered herd. We do not chase fads or the latest "popular" bull. We strive to build quality by stacking one generation of predictable genetics on top of another set of similar predictable genetics.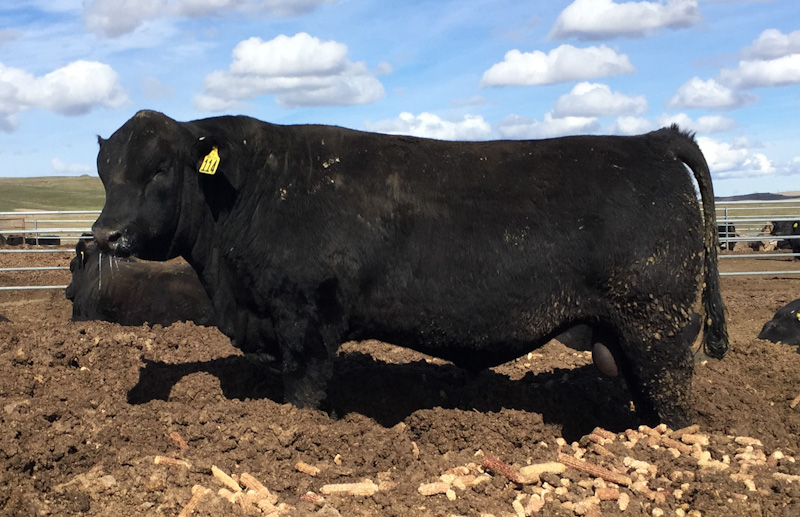 Read our latest articles on how to make a decision about purchasing a bull.
Learn more today!

Bob Walli
Ritzville, WA
"Our pregnancy rates and weaning weights have really improved using your bulls."
WANT TO STOP BY AND LOOK AT OUR BULLS?
Call us at 509-936-4380.
Angus Bull #626
AAA 19497031
DOB: 1-2-19
Act BW: 79
Adj wean wt: 621
Sire: MAR Double XL 320
Dam: HC Blackcap Summit
CED: 11
BW: .5
WW: 61
YW: 105
Milk: 26
Angus Bull #696 
DOB: 1-8-19 (not registered)
Act BW: 84
Adj wean wt: 548
Sire: MAR Double XL
Dam: HC Designer Resource
CED: 8
BW: .75
WW: 57
YW: 104
Milk: 25
Angus Bull #713
AAA 19497030
DOB: 1-27-19
Act BW: 79
Adj wean wt: 626
Sire: Connealy Comrade
Dam: HC Blackbird Traction
CED: 8
BW: .2
WW: 56
YW: 105
Milk: 29
Angus Bull #721
AAA 19497026
DOB: 1-22-19
Act BW: 71
Adj wean wt: 604
Sire: GAR Sure Fire
Dam: HC Basin Joyce Traction
CED: 10
BW: .1
WW: 58
YW: 105
Milk: 31
Angus Bull #734
AAA 19497023
DOB: 1-13-19
Act BW: 65
Adj wean wt: 506
Sire: GAR Sure Fire
Dam: JC Daveys Black Darling
CED: 12
BW: .3
WW: 53
YW: 94
Milk: 28
Angus Bull #82G, WCA Lot 406
AAA 19497022
DOB: 1-6-19
Act BW: 94
Adj wean wt: 662
Sire: S PowerPoint 
Dam: HC Miss New Design Courage
CED: 8
BW: .6
WW: 61
YW: 106
Milk: 23
Angus Bull #921
AAA 19497021
DOB: 1-02-19
Act BW: 84
Adj wean wt: 648
Sire: Sitz Upward 
Dam: Basin Joyce 9213
CED: 8
BW: 1.2
WW: 56
YW: 101
Milk: 29
Angus Bull #929
AAA 19497028
DOB: 1-22-19
Act BW: 69
Adj wean wt: 592
Sire: Connealy Comrade
Dam: HC Final Design
CED: 13
BW: -1.5
WW: 50
YW: 93
Milk: 25
Angus Bull #930
AAA 19497029
DOB: 1-27-19
Act BW: 84
Adj wean wt: 651
Sire: Connealy Comrade
Dam: HC Bo Midy Resource ET
CED: 8
BW: .4
WW: 54
YW: 102
Milk: 23
Angus Bull #948
AAA 19497025
DOB: 1-20-19
Act BW: 70
Adj wean wt: 539
Sire: GAR Sure Fire
Dam: HC Miss Granite Party
CED: 13
BW: -.5
WW: 52
YW: 96
Milk: 30
Angus Bull #9496
AAA 19497027
DOB: 1-23-19
Act BW: 63
Adj wean wt: 536
Sire: Connealy Comrade
Dam: HC Charlo Designer
CED: 12
BW: -1.2
WW: 49
YW: 90
Milk: 26
Angus Bull #9533
AAA 19497024
DOB: 1-14-19
Act BW: 76
Adj wean wt: 510
Sire: GAR Sure Fire
Dam: HC Courageous Comrade
CED: 13
BW: .7
WW: 52
YW: 98
Milk: 29