Hereford cattle are a staple breed on the Hagen ranch. Our recent purchase of Precious Z35 from Ehlke Herefords is a total outcross from our current genetics. Z35 is a beautiful, dark, full bodied cow that has the look of a female that will produce excellent herd bulls. We are very excited for the arrival of her 2018 calf and look forward to using her offspring in our program.
We have also added a weanling heifer from Churchill Cattle Company to our 2017 heifer calf crop. This little lady has style and eye appeal that will produce some excellent replacement heifers and herd bulls.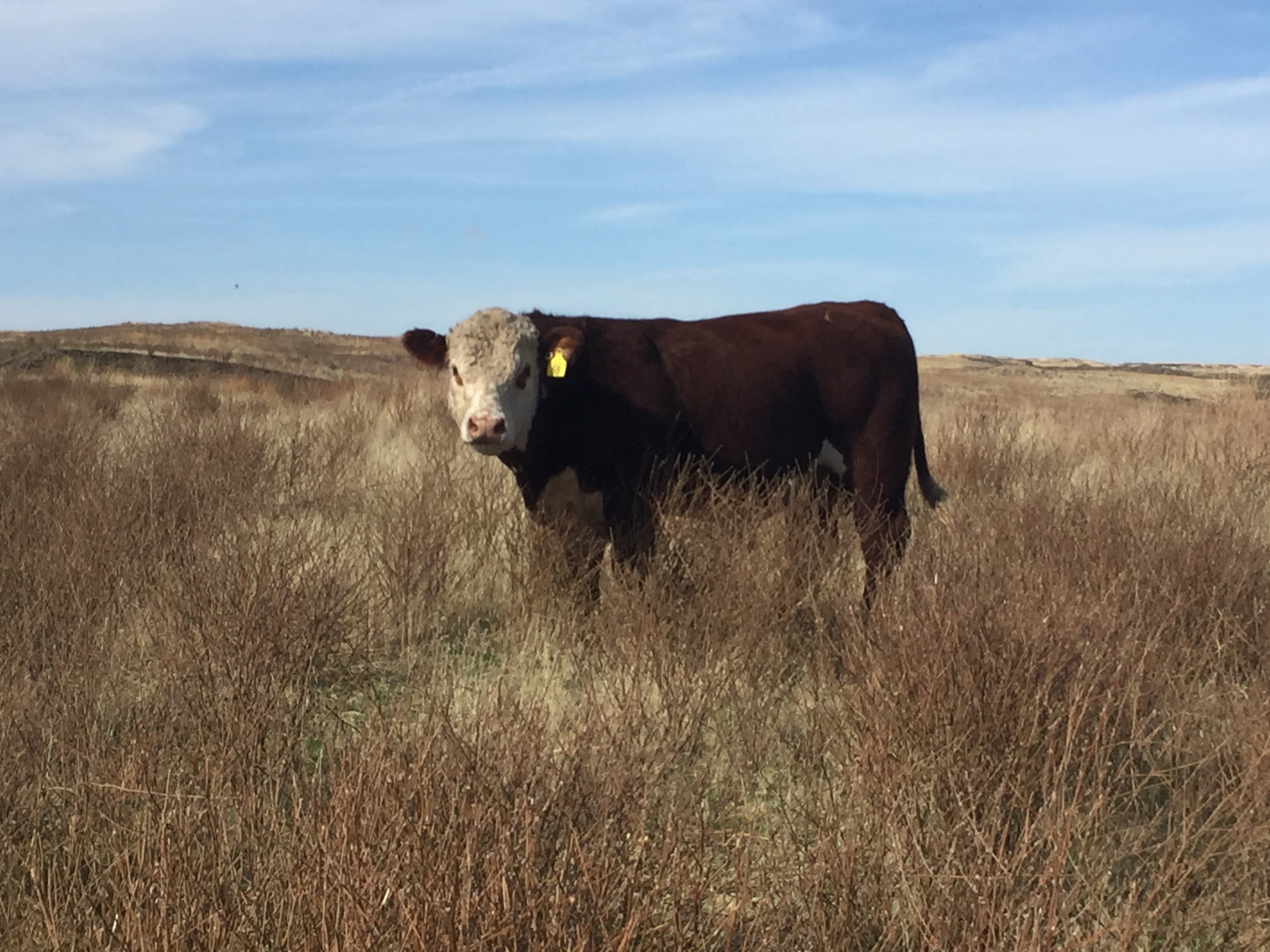 WANT TO STOP BY AND LOOK AT OUR BULLS?
Call us at 509-936-4380.
Hereford Bull #780
DOB:

1-3-17

Act BW: 

86

Adj Wean Wt: 692
2-11-18 Wt:
Sire: Churchill Stud
Dam: Donna Duramiss
CED: 4.1
BW: 2.1
WW: 61
YW: 97
Milk: 28
At WCA Bull Test in Eltopia, WA
Hereford Bull #785
DOB: 2-1-17
Act BW: 89
Adj Wean Wt: 601
2-11-18 Wt: 
Sire: NJW Twentytwelve
Dam: HH Miss Advance 9011
CED: -4.6
BW: 5.2
WW: 51
YW: 94
Milk: 32
At WCA Bull Test in Eltopia, WA
Hereford Bull #777
DOB: 2-2-17
Act BW:100
Adj Wean Wt: 771
2-11-18 Wt:
Sire: Churchill Stud
Dam: HH Miss Advance 9011
CED: -.2
BW: 3.4
WW: 54
YW: 92
Milk: 26
At WCA Bull Test in Eltopia, WA
Hereford Bull #784
DOB: 1-31-17
Act BW: 85
Adj Wean Wt: 601
2-11-18 Wt:
Sire: NJW Twentytwelve
Dam: HH Miss Advance 9011
CED: -4.4
BW: 4
WW: 48
YW: 91
Milk: 31
Hereford Bull #716
DOB: 2-24-17
Act BW: 94
Adj Wean Wt: 601
2-11-18 Wt:
Sire: Churchill Stud
Dam: Olympic Girl
CED: -0.3
BW: 2.5
WW: 52
YW: 88
Milk: 20
Hereford Bull #725
DOB: 1-31-17
Act BW: 85
Adj Wean Wt: 569
2-11-18 Wt:
Sire: HH Perfect Timing
Dam: HH Miss Advance
CED: 4.2
BW: 1.1
WW: 44
YW: 70
Milk: 25
Hereford Bull #706
DOB: 1-11-17
Act BW: 67
Adj Wean Wt: 645
2-11-18 Wt:
Sire: NJW Durango 44U
Dam: Homegrown Game Plan
CED: 3.7
BW: 1.3
WW: 53
YW: 86
Milk: 34