Our goal is to produce twelve to fourteen high-quality Angus Bulls each year. We select only the bulls we feel will noticeably improve our customers' herds. The remaining bull calves are castrated before they are three months old. We use artificial insemination (AI) exclusively on our herd. We do not own a "clean up" bull. Our cows either breed back AI or are sold to local commercial herds. This assures that your bull is from a highly fertile cow that breeds back easily. Also,  our angus bulls average approximately 1150 pounds at 365 days.  Read more about our breeding philosophy.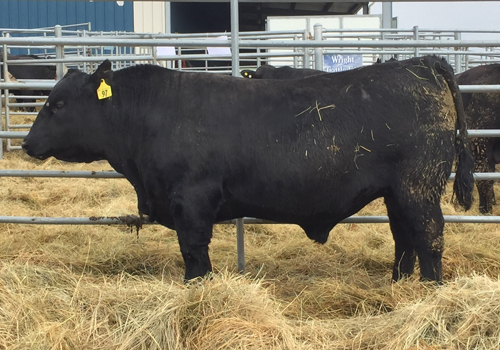 WANT TO STOP BY AND LOOK AT OUR BULLS?
Call us at 509-936-4380.
Angus Bull #603
DOB: 1-1-17
Act BW:95
Adj wean wt: 731
2-11-18 Wt:
Sire: Connealy Black Granite
Dam: BoBo Miss Midy 603
CED: 5
BW: 3.1
WW: 62
YW: 100
Milk: 21
At WCA Bull Test in Eltopia, WA
Angus Bull #747
DOB: 1-27-17
Act BW: 98
Adj wean wt: 898
2-11-18 Wt:
Sire: SAV Resource 1441
Dam: BoBo Miss Midy 603
CED: -1
BW: 4.4
WW: 65
YW: 113
Milk: 21
At WCA Bull Test in Eltopia, WA
Angus Bull #726
DOB: 1-17-17
Act BW: 94
Adj wean wt: 704
2-11-18 Wt:
Sire: Connealy Black Granite
Dam: Capital Blackcap
CED: 11
BW: .2
WW: 51
YW: 85
Milk: 28
Angus Bull #795
DOB: 1-19-17
Act BW: 92
Adj wean wt: 700
2-11-18 Wt:
Sire: JMB Traction
Dam: Uptown Rain Factor
CED: 2
BW: 2
WW: 63
YW: 108
Milk: 39
Angus Bull #731
DOB: 1-8-17
Act BW: 88
Adj wean wt: 638
2-11-18 Wt:
Sire: JMB Traction
Dam: Erica Answer
CED: 1
BW: 2.6
WW: 62
YW: 107
Milk: 42
Angus Bull #786
DOB: 3-15-17
Act BW: 92
Adj wean wt: 798
2-11-18 Wt:
Sire: Connealy Black Granite
Dam: Juanada of Par
CED: 5.5
BW: 3
WW: 58
YW: 105.5
Milk: 20
Angus Bull #5795
DOB: 1-7-17
Act BW: 60
Adj wean wt: 621
2-11-18 Wt:
Sire: Connealy Comrade
Dam: Black Bird Summit
CED: 14
BW: 1.7
WW: 51
YW: 94
Milk: 36
Angus Bull #582
DOB: 1-19-17
Act BW: 80
Adj wean wt: 631
2-11-18 Wt:
Sire: Connealy Comrade
Dam: New Design Courage
CED: 13
BW: 1
WW: 48
YW: 87
Milk: 32
Angus Bull #741
DOB: 3-12-17
Act BW: 92
Adj wean wt: 740
2-11-18 Wt:
Sire: S Chisum
Dam: CF Treasure Prime Star
CED: 4.5
BW: 2.85
WW: 58
YW: 99.5
Milk: 21